Invite-Only Tournament Will Have Cap of 49 Players
Published on January 26th, 2018 7:21 pm EST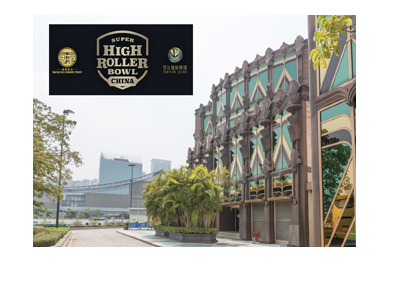 Earlier this week, Poker Central and Macau Billionaire Poker announced plans to host the Super High Roller Bowl China in March.
The tournament, which will run from March 20-22, will have a buy-in of $2,000,000 + $100,000 HKD, which works out to roughly $269,000 USD.
The invite-only tournament will feature a cap of 49 players, though there will be unlimited re-entries. In total, Macau Billionaire Poker is guaranteeing a prize pool of $100 million HKD, which translates into roughly $12.8 million USD.
The tournament will be taking place at the Babylon Casino in Macau's Fisherman's Warf.
-
Phil Ivey and Tom "durrrr" Dwan have both spent an enormous amount of time playing in Macau over the past few years, so you can safely assume that they will be receiving invites to this event.
In addition, there will be dozens of invitations sent out to the businessmen who have populated the high stakes cash games and tournaments in Macau over the past number of years.
On top of that, top High Roller players such as Fedor Holz, Erik Seidel and Daniel Colman will likely secure invitations to the tournament as well.
-
The full press release regarding the newly announced event can be found below:
Source: Poker Central -
Poker Central and Macau Billionaire Poker Partner To Launch Super High Roller Bowl China
--
Filed Under:
Other Poker News