March 25th Deadline For Weight Bet Approaching
Published on March 10th, 2018 5:34 pm EST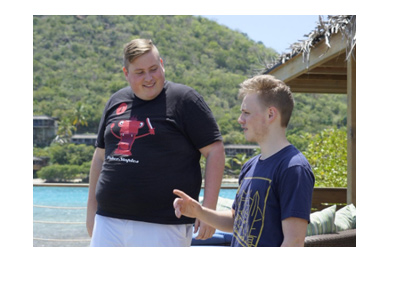 The "Ultimate Sweat" is racing towards its conclusion, as Jaime Staples and brother Matt are just weeks away from their final weigh-in.
Less than a year ago, hedge fund manager and poker player Bill Perkins proposed an insane prop bet to the Staples brothers - weigh within 1 pound of each other within a year.
The stakes were massive for the brothers, as Perkins proposed giving the brothers 50-1 odds. That meant that the $3,000 that the brothers put up for the bet would be worth $150,000 if they could achieve their goal.
The prop bet seemed nearly impossible to win at the time, as Jaime tipped the scales at over 300 pounds, while Matt weighed just 134. This would mean that the brothers would have to close a gap of over 170 pounds over the course of just a single year.
There was no doubt that Jaime could lose a massive amount of weight over the course of the year, though could Matt gain the necessary weight in order to make things interesting? After all, Jaime wouldn't be able to get down to 135 pounds, which meant that Matt would need to gain a significant amount of weight in order to win the bet.
After agreeing to the bet, the Staples brothers got to work. In order to win, Matt started eating to excess in order to gain size (while lifting weights in order to gain valuable muscle), while Jaime started limiting his calories while significantly increasing his cardio workouts.
Over the course of the year, Matt and Jaime would document their weight loss bet while travelling the world. The temptations were strong for Jaime over the course of the year, as he would constantly have to turn down delicious meals in various exotic locations. Matt, on the other hand, has eaten so much over the past year that he is probably looking forward to skipping a meal or two when the wager is over.
-
With roughly 2 weeks left until the deadline of the bet (March 25th), Jaime and Matt Staples are now within 8 pounds of each other.
The pressure is being ramped up as there is a life-changing amount of money on the line. Jaime, who recently broke 200 pounds for the first time in a long while, has been going especially hard as of late as he attempts to shed a significant amount of weight before the deadline.
-
Can the Staples brothers win the "Ultimate Sweat" in a few weeks?
--
Filed Under:
Other Poker News