Shares of The Stars Group Have Doubled Over The Past Year
Published on March 13th, 2018 4:26 pm EST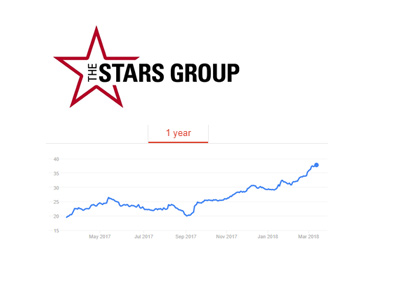 It's been a good year to be a shareholder of The Stars Group Inc., which is the parent company of Pokerstars, BetStars and the European Poker Tour.
As of this moment, one share of The Stars Group Inc. (trading as TSG on the NASDAQ Stock Exchange) would cost you $29.33, which gives the company a valuation of $4.34 billion USD.
Shares of the company have soared over the past year, trading from a little over $14/share to a current level of nearly $30.
-
Shares of The Stars Group Inc. have moved higher over the past 12 months due to a number of different reasons, including:
1) Increased focus on casino and sports betting products. While Pokerstars is clearly stagnating in terms of revenue and player growth, the site's sports betting and casino products are growing quickly.
2) Strong global equity markets. A rising tide lifts all boats and shares of The Stars Group have benefitted from a strong stock market.
3) Industry consolidation. Changing regulatory environments have given companies like The Stars Group the opportunity to acquire stakes in companies for lower than they might have been able to in the past.
4) Increased rake. Over the past couple of years, Pokerstars has undertaken a number of unpopular changes to their rake structure and rewards system. While many were unhappy (especially those players at higher stakes) with the changes, the Pokerstars' brand was more than strong enough to withstand any negative impact. In short, the Pokerstars cash machine is throwing off even more cash than ever.
-
Can The Stars Group keep the good times rolling for their shareholders over the next year? In order to do so, will the company attempt to squeeze more money out of their players?
--
Filed Under:
Online Poker Rooms