GVC Holdings/MGM Tie-Up Propels Both Companies Higher
Published on July 31st, 2018 10:59 pm EST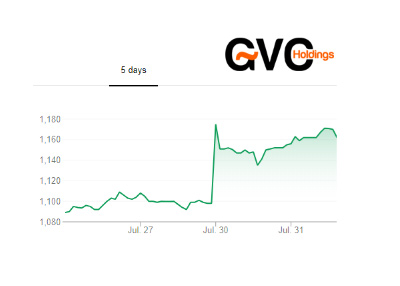 The online sports betting landscape in the United States is starting to take form, and GVC Holdings PLC and MGM Resorts International are staking their positions to take a large part of the pie.
Earlier this week, GVC Holdings PLC (parent company of brands such as partypoker and Sportingbet) and MGM Resorts International announced a joint venture between the two companies. The venture, which will be split 50/50 between the two companies, will be funded with $200 million. The joint venture will look to penetrate the rapidly opening US sports betting and online gambling market, which recently benefited from a Supreme Court decision that reversed the federal ban on sports betting.
According to multiple media reports, the MGM brand will be front and center, though there are also plans to use the partypoker brand in the future. partypoker was last operational in the United States in 2006, though was forced to pull out of the country following the passage of UIGEA into law. At one time, partypoker was the biggest online poker company in the world, though their withdrawal from the US market allowed Pokerstars (which wasn't a public company at the time) to take over partypoker's market share and their position as the world's top online poker site.
-
The market reacted very favourably to this news, as shares of GVC Holdings plc have announced more than 6% after the deal was officially announced.
The US market is a very lucrative one, and more than a dozen states are expected to announce legalized sports betting in short order. The new GVC Holdings/MGM tie-up plans to move into those markets once they open - for now, they will focus on Nevada, which offers legal sports betting and online poker to its residents.
GVC Holdings plc has the technology to be able to offer sports betting, online poker and casino games to residents in states where these games are legal, while MGM has one of the most powerful gambling brands in the world.
-
There is currently a land grab taking place as the US sports betting market starts to open up. Billions of dollars is on the line, as the country remains the biggest sports betting market in the world, and it's not even close. Combine a high household income (relatively speaking compared to the rest of the world) with a love for sports betting, and you have a market that is making companies around the world drool.
GVC Holdings plc/MGM looks to be front and center, and this is causing investors to rush to buy shares of both companies.
--
Filed Under:
Online Poker Rooms