Published on August 28th, 2007 7:31 pm EST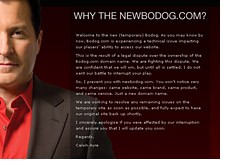 When Bodog started experiencing problems yesterday, most people (myself included) just figured that they were having some temporary website difficulties. When the problem persisted, I thought maybe they had been hacked. I didn't think much of it, as people just said that the company was having some temporary DNS difficulties.
Well the news is far, far worse for Bodog, and they have been forced to launch a temporary new web site at www.newbodog.com.
This is what I have heard:
Someone filed a lawsuit a while ago against Bodog. This related to a patent that the guy had for taking bets online.
Bodog didn't respond.
The guy was awarded a default judgment of $48.93 million dollars (judgment handed down in King County Washington)
The guy used the judgment to take control of Bodog's domain names.
Bodog is all of a sudden dispatching their legal team to try and rectify this situation, but as you can clearly see, a significant amount of damage has already been done.
Either:
a) Bodog will win back control of their domains in court. This will do a ton of damage to their search engine campaigns and will throw all of their marketing campaigns into complete disarray.
b) They will have to pay a lot of money to get their domains back (I'm sure the guy won't sell them cheap.)
c) Rebrand to "newbodog.com" I'm sure this is an absolute last resort for the company.
A really bad day for Calvin Ayre and Bodog. It will be interesting to see how this story plays out.
--
Filed Under:
Online Poker Rooms
|
Poker Legal Issues