Parent Company of Pokerstars Continues To Struggle
Published on November 7th, 2018 6:50 pm EST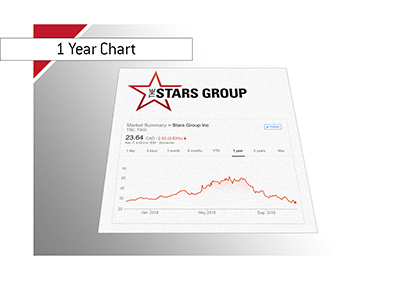 It was another poor day for the parent company of Pokerstars, as shares of The Stars Group Inc. finished the day at $18.03 on the NASDAQ stock exchange, down over 9% on the day.
This weakness in the stock came as a result of the company's poorly received Q3 earnings report, which was released before the bell earlier today. The company missed on both earnings and revenues, which resulted in many investors hitting the exit door.
-
Shares of The Stars Group Inc. are now down over 50% in roughly 4 1/2 months, which has resulted in billions of dollars in market capitalization being shaved off of the company.
Things were looking rosy for the company shortly before the World Cup got underway. New markets were opening up in the United States and other countries around the world, the company was enjoying a more diversified revenue mix and investors were excited about Pokerstars' pending deal for Sky Betting & Gaming. Pokerstars was no longer just a poker company - they were now going to be one of the largest online gaming firms in the world.
Things have fallen apart since that point, however, as investors now worry about the company's stagnating business, high debt load and increasing competition in the space.
As of the end of the most recently completed quarter, The Stars Group had long-term debt outstanding of $5.65 billion, along with $419 million in operational cash. This high debt load has proved to be worrisome to many investors.
Poker revenues posted a 3.9% decrease year-over-year. Given that poker continues to be the main source of revenue for the company, this number is concerning. Gaming revenues were $107.6 million for the quarter, up 28.9% YoY, while betting revenues clocked in at $21.0 million, up 79.9% YoY.
-
The company continues to make money, though they are growing their business at a slower-than-anticipated rate which has caused many investors to revalue the company. This has resulted in a greatly reduced share price over the past 6 months or so.
--
Filed Under:
Other Poker News