Pokerstars, UFC Team Up For UFC 232 Promotion
Published on December 21st, 2018 9:22 pm EST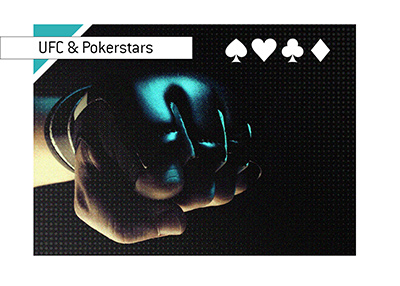 Back in the days when Pokerstars and Full Tilt Poker dominated the "grey" US market, Full Tilt Poker served as a sponsor for the UFC and some of its fighters.
The UFC and Full Tilt Poker seemed to be rapidly growing their relationship until "Black Friday" took place. Full Tilt Poker essentially collapsed and the UFC elected to immediately terminate their relationship with the site.
Earlier this week, the UFC announced that Pokerstars is going to serve as the company's "official poker partner" for UFC 232: Jones vs Gustafsson 2, and perhaps beyond.
This is a big deal for both companies, as it opens the UFC's doors to a valuable new sponsorship partner that possesses tens of millions of dollars in marketing money, and it continues to usher Pokerstars back into mainstream acceptance in the United States.
As part of the deal, Pokerstars will reportedly be featured prominently "inside the world-famous Octagon" on December 29th. This likely means that Pokerstars will have a spot on the Octagon canvas, along with potential mentions during the broadcast.
-
It wasn't that long ago when Pokerstars was essentially tossed out of the United States on its ear.
Thanks to a change in ownership and a settlement with the US government, Pokerstars is slowly but surely re-establishing themselves in the US market, thanks to the launching of partnerships in states such as New Jersey and new advertisement/sponsorship deals with companies like the UFC.
The deal makes sense for both sides, as the UFC will likely receive a nice chunk of money from Pokerstars, while Pokerstars will open their doors to some new customers.
As more and more states legalize poker, casino and sports betting, expect Pokerstars to continue their deal with the UFC into the foreseeable future.
Source: Pokerstars.com -
Pokerstars and UFC Join Forces for UFC 232: Jones vs Gustafsson 2
--
Filed Under:
Online Poker Rooms