Online Gaming Stocks Were Clobbered in 2018
Published on December 31st, 2018 6:19 pm EST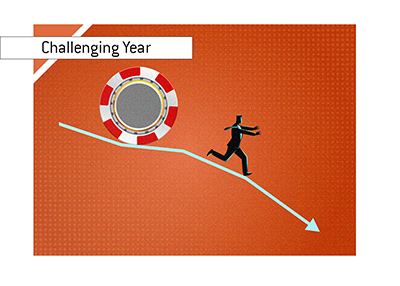 It was an absolute bloodbath if you were invested in online gaming companies in 2018.
Shares of five of the biggest online gaming companies - The Stars Group, GVC Holdings PLC, 888, William Hill and Paddy Power Betfair - were absolutely savaged in 2018.
Paddy Power Betfair suffered the smallest decline, dropping 27.02% from a year ago today.
William Hill, on the other hand, was absolutely trounced, losing more than half of its value over the past year.
Let's take a look at how shares of the five companies performed over the past year:
The Stars Group, -29.4%
GVC Holdings PLC, -28.64%
888, -37.92%
William Hill, -51.86%
Paddy Power Betfair, -27.02%
-
These share declines come despite the fact that the world's most lucrative online gaming market, the United States, is slowly opening up its doors.
Major sports leagues such as the NBA and NHL are inking deals with the likes of The Stars Group, as more US states legalize sports betting. This has done nothing to calm the nerves of investors, however, as many people continue to hit the exit door, worried by increasing competition and stagnating growth.
A wave of consolidation in the industry has seemingly ended for the time being, as companies worry about increasing debt loads and stagnating earnings.
In addition, a number of regulatory headaches have popped up for online gaming companies over the past couple of years, and this has drained valuable time and money, as compliance has become a top priority.
-
Is the industry poised to rebound, or are there more rough waters ahead?
--
Filed Under:
Online Poker Rooms