"James23C" Collects $1 Million After Winning $5 SPIN
Published on June 13th, 2019 2:35 pm EST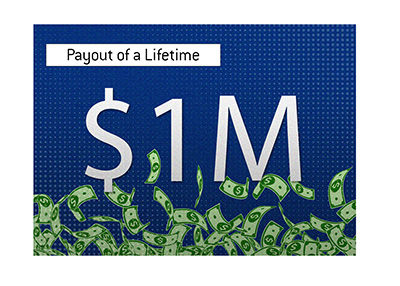 partypoker anointed yet another lucky millionaire earlier this week after James "James23C" Carmichael took down a $5 SPIN for a first place prize of $1 million.
Carmichael's lucky SPIN took place on June 11th. Carmichael, of the United Kingdom, found himself squaring off against "elielalbiter" of Mexico and "nilverlobo" of Peru for the first place prize.
While there was $1 million earmarked for the winner, the second and third place finishers would walk away with $100,000, a very nice ROI on a $5 investment.
-
The first big hand in the $1 Million SPIN came when "nilverlobo" was coolered after being dealt J-J against the pocket aces of "James23C". "Nilverlobo" was unable to catch any cards and was sent down to 268 chips, well below his starting stack of 500.
"nilverlobo" would receive more bad luck a few hands later when he elected to make his final stand holding pocket Nines. Carmichael called the pre-flop all-in holding A-K and was rewarded when an Ace came on the turn. Carmichael received unnecessary help in the form of a King on the river, and "nilverlobo" was sent to the rail, $100,000 richer.
The end to the tournament came a short while later, as "elielalbiter" was severely outchipped after "Nilverlobo" was bounced from the tournament.
"James23C" and "elielalbiter" elected to get their chips in with "James23C" holding Kd-9d and "elielalbiter" holding pocket sixes.
The flop was a dream for "elielalbiter", as it came 6d-10h-4d, giving him a set of sixes. Unfortunately, the flop also brought two Diamonds, giving Carmichael a flush draw.
The turn brought the 8d, giving "James23C" a flush. "elielalbiter" needed the board to pair on the river to win the hand, though he would have no such luck, as the King of Clubs completed the board.
"Elielalbiter" was sent to the rail in second place for $100,000, while "James23C" walked away with the payout of a lifetime - $1,000,000.
--
Filed Under:
Online Poker Rooms