Tom Dwan, Jason Koon Look To Be Amongst Participants Playing in Event
Published on June 18th, 2019 1:19 pm EST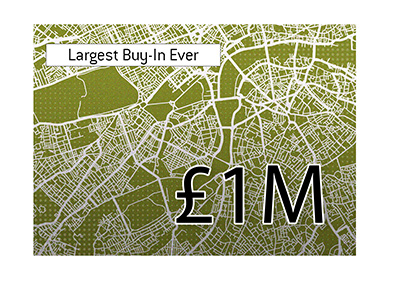 The largest buy-in event in the history of tournament poker - the £1.05 million (or about $1.32 million USD) Triton Poker: "A Helping Hand for Charity" - will be taking place between August 1st and August 3rd, 2019.
The tournament will be held at the London Hilton on Park Lane Grand Ballroom in London, England.
£50,000 of each buy-in will be removed and donated to three charities - Caring for Children Foundation, REG (Raising for Effective Giving) and Healthy Hong Kong.
-
Registration is not just open to anyone.
There is a group of players that are classified as either businessmen or casual players. These players are extended an invitation to play in the event following approval by a committee.
These businessmen or casual players can then invite one professional poker player or "guest player" - this is being done to limit the amount of sharks in the field.
So far, a total of 11 businessmen or casual players have confirmed their participation in the event. They are:
Paul Phua
Stanley Choi
Wai Kin Yong
Bobby Baldwin
Richard Yong
Ivan Leow
Rick Salomon
Liang Yu
Sun Yaqi
Rob Yong
Eddie Ting
A total of 4 invites have been issued to professional poker players. They are:
1. Bobby Baldwin invited Jason Koon.
2. Wai Kin Yong invited Rui Cao.
3. Stanley Choi invited David Peters.
4. Paul Phua invited Tom Dwan.
So, as of this moment, it looks as though the event has 15 confirmed participants.
-
To keep up to date on the latest confirmed participants for the event, please click the link below:
Source:
Triton Series
--
Filed Under:
Other Poker News