Hossein Ensan, Garry Gates Moving Away From Rest of Field
Published on July 15th, 2019 2:05 am EST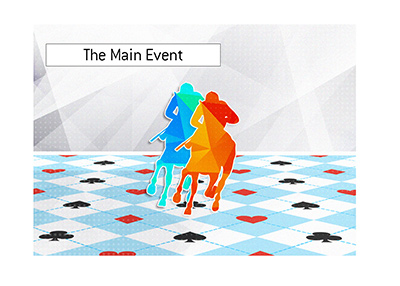 The 2019 World Series of Poker main event, which drew a total of 8,569 entrants (the second largest main event field of all time), is now down to just five players.
Of the five players left in the event, two players - Hossein Ensan and Garry Gates - have the vast majority of the chips left in play.
Here are the chip counts heading into Day 9 on Monday:
Hossein Ensan, 207,700,000
Garry Gates, 171,700,000
Kevin Maahs, 66,500,000
Alex Livingston, 45,800,000
Dario Sammartino, 23,100,000
Hossein Ensan finished Day 8 where he started - in the chip lead. On one hand, Ensan has to be happy with his performance, though he is now looking over his shoulder at Garry Gates, who significantly increased his stack over the course of Day 8.
-
The final hand of Day 8 came when Zhen Cai elected to shove pre-flop holding As-Kd. Kevin Maahs elected to call with pocket Nines. Given that the two men had more or less the same stack sizes to start the hand, one of them was going to be hitting the rail.
In that end, that person was Zhen Cai, as the board ended up running out Qs-Jh-7s-4d-2d. Cai had plenty of outs to win the hand after the flop, though he wasn't able to get the help that he needed and was eliminated in 6th place for $1,850,000.
Nick Marchington was eliminated in 7th place ($1,525,000) after his Ah-7c proved to be no good against the pocket Kigns of Hossein Ensan.
Timothy Su was eliminated in 8th place ($1,250,000) after he elected to push his short stack into the middle holding pocket Threes. Ensan called holding Ad-Jc.
The board ran out Jh-5c-5d-10s-Jd, giving Ensan a full house and the pot.
The first elimination of Day 8 came when Milos Skrbic and Garry Gates got all-in preflop. The two players held:
Skrbic - As-Jh
Gates - Ac-Qh
While Skrbic flopped a straight draw, he was unable to get any more help and was eliminated for the tournament in 9th place ($1,000,000).
-
Action in the main event will continue on Monday afternoon, with the winner of the tournament eventually being crowned on Tuesday night.
--
Filed Under:
The World Series of Poker