Published on September 12th, 2007 2:47 pm EST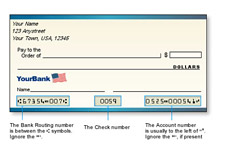 Just in time for the WCOOP, Pokerstars has (at least temporarily) removed the option of depositing onto Pokerstars using E-checks.
Over the past few days, we have received quite a number of emails from readers telling us that none of the money that they had deposited using the E-Check option had been taken out of their bank accounts. There were some people who deposited on about the 25th of August who still haven't had their money taken out of their accounts yet.
Obviously the company that is processing the payments is having major problems, as several people told me that they tried calling their contact number but couldn't reach anyone.
As I said, Pokerstars has taken down the option of depositing via e-checks for now.
According to Pokerstars support, you should make sure that the funds are in your bank account as they will be debited within the next few days.
We'll keep tabs on this and keep everyone updated.
--
Filed Under:
Online Poker Rooms