Shares of Parent Company of Pokerstars Continues To Struggle
Published on August 6th, 2019 3:26 pm EST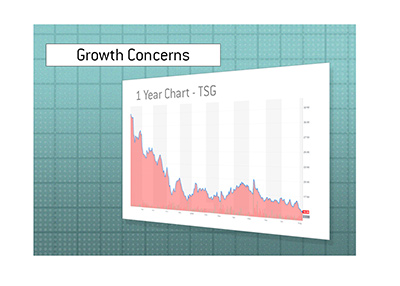 This time last year, shares of The Stars Group (parent company of Pokerstars) were trading north of $32/share on the NASDAQ stock exchange.
At the time, things seemed great for the company. The 2018 FIFA World Cup had just ended, meaning the company was likely set for a big boost in new business and earnings.
In addition, the US market was going to be opening up to the company, thanks to a May 2018 Supreme Court decision in which the highest court in the land allowed states to set their own sports gambling policy.
While the poker business was stagnating, things seemed to be trending up at The Stars Group, and this optimism was being reflected in the share price.
-
12 months later, shares of the company are languishing at 52 week lows.
Earlier today, shares of the company closed at $15.09 after touching a low of $14.99.
A few months ago, there was a blip of good news, as The Stars Group revealed that they were going to be teaming up with Fox Sports on a new "Fox Bet" joint venture in the United States.
In addition, Fox was going to be buying a chunk of The Stars Group, giving the company even more legitimacy, especially in the United States.
After popping over 20% on that news, shares of The Stars Group have lost all of that bounce, and then some.
-
Over the past year, there hasn't been one single event that has caused investors to leave The Stars Group.
While the company continues to make money, investors seem to be concerned about their future growth potential, especially in an increasingly competitive global online gambling market.
While the United States opening up to online gambling is certainly good news for the industry, the level of competition will be insane given how lucrative the market is.
In addition, with interest rates trending lower across the globe, many investors are indeed choosing to buy higher growth companies, rather than stocks like The Stars Group.
-
What can the company do to turn around their shares at this point?
--
Filed Under:
Online Poker Rooms