Published on September 12th, 2007 3:01 pm EST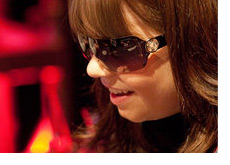 Betfair won the "Annette_15" sweepstakes, signing the young poker phenom to a sponsorship deal. Their timing couldn't be better, as Annette is currently one of the chipleaders in the WSOPE main event, and is a definite contender to take down the entire event.
Not only is Annette one of the top-ranked online players in the world, but she is also extremely young. Add in the fact that she is also a female dominating a game typically played by men, and you have a perfect storm of marketing potential.
There were many suitors for "Annette_15", with Full Tilt Poker also in the running to sign the young superstar. Betfair put together a tremendous deal for the Norwegian poker player, a deal that she couldn't turn down.
As Annette has stated that she plans to focus more on her live game, one can only assume that this deal will involve Betfair paying for Annette's entries into high profile live tournaments in exchange for her wearing their gear and promoting their website. I can only assume that she signed a deal that would make her non-exclusive to Betfair, so that she could continue to play on other sites.
A great signing for Betfair, and a great deal for Annette_15.
Photo: GreasieWheels.com
--
Filed Under:
Online Poker Rooms
|
Players In The News