The Stars Group Smashed After Releasing Q2 Earnings Report
Published on August 12th, 2019 4:12 pm EST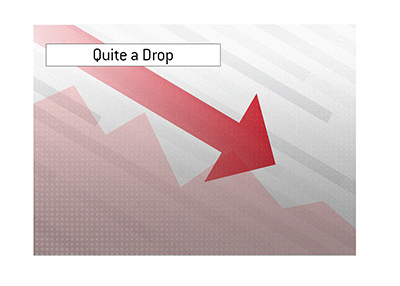 The troubles for Pokerstars' parent company, The Stars Group, are clearly evident in the company's plummeting stock price.
Things went from bad to worse for The Stars Group today, as shares of the company traded almost 20% lower to close at $12.99 after the company released its Q2 earnings report.
This is the lowest that the company's shares have traded for years and an incredible drop from just over a year ago, when shares were trading at over $36/share.
In short - the company has lost roughly 2/3rds of its value since hitting a peak right before the start of the 2018 World Cup.
-
Investors fled the stock earlier today after the company missed analysts' revenue expectations. Analysts had been expecting the company to post revenues of $655.86 million in the second quarter, though the company came in at $637.62 million.
The Stars Group also cut their Full Year EPS, revenue and EBITDA expectations. FY earnings expectations were cut from $1.87-$2.11 per share down to $1.68-$1.83, revenue expectations were cut from $2.64 billion-$2.765 billion down to $2.5 billion-$2.575 billion, while EBITDA forecasts were reduced from $960 million-$1.01 billion down to $905 million-$930 million.
In short - things are going the wrong way at The Stars Group right now and investors are worried.
-
Alarmingly, poker revenues were down 11.7% for The Stars Group from the same period last year, while betting revenues also dropped.
Gaming revenues, on the other hand, were up 12.3%.
-
The company's biggest revenue source is still its poker brand, and these revenues are dropping off dramatically, which is being reflected in the company's plummeting share price.
Source:
Yahoo! Finance TSG Quote
--
Filed Under:
Online Poker Rooms