Howls of Outrage as Pokerstars Rolls Out Cash Game Cap
Published on August 21st, 2019 1:23 am EST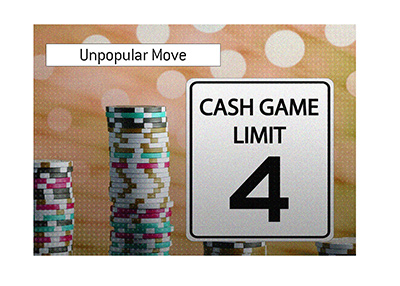 Earlier this week, Pokerstars announced that they were rolling out a cap on the total number of cash games that their customers can play at one time.
After testing a 6 table cash game cap in Italy last year, Pokerstars decided to implement an even more restrictive cap for a number of different markets, including *.com, *.eu and *.uk.
Going forward, players will only be able to play at four "regular" cash game tables at one time, down from a previous cap of 24.
Pokerstars notes that table caps for games such as "Zoom" will remained unchanged.
-
Pokerstars, as always, maintains that these changes are necessary to maintain a "healthy ecosystem".
The move is being met with a great deal of anger and skepticism, however, as many point out that the decision to leave Zoom tables out of this new cap shows that Pokerstars is only interested in one thing - profits.
Pokerstars has launched a multi-year war against grinders by eliminating the Supernova and Supernova Elite programs, drastically changing the rewards program and now implementing a cap on cash games.
Pokerstars wants the recreational players who will also bet on sports and play casino games, while the players who grind and win money by playing poker are no longer being courted.
If you are a grinder, Pokerstars is essentially saying, go somewhere else.
-
This move is being undertaken against a backdrop of a massive decline in the overall value of Pokerstars' business, as shares of the company have plummeted in recent months.
It is clear to me that Pokerstars is desperate to strengthen its bottom line. They don't want skilled grinders taking money from recreational players - instead, they want the recreational players to keep their money for a longer period of time so that they can generate more rake and potentially make Pokerstars money at the casino tables and at the sports book.
-
One thing is for sure - the Pokerstars' brand continues to take a beating, and this latest move certainly doesn't help.
Many people are asking - what's next?
Source: Pokerstars.com -
Ring game table cap of 4 rolled out
--
Filed Under:
Online Poker Rooms