Hellmuth Unable To Win One Point Against Tennis Pro In 20 Attempts
Published on November 13th, 2019 12:38 am EST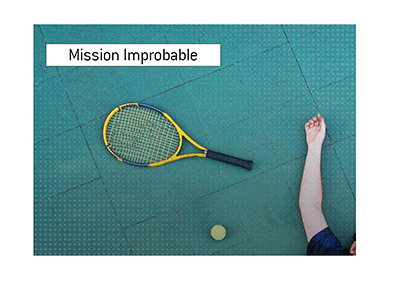 Many professional poker players absolutely love entering into prop bets.
There have been some crazy ones over the years, including Antonio Esfandiari's lunge prop bet (which resulted in him getting disqualified from the Pokerstars Caribbean Adventure) and the famous weight loss bet between Mike "The Mouth" Matusow and Ted Forrest.
Phil Hellmuth also loves his prop betting and found himself involved in an interesting one earlier this week.
The premise was quite simple - could Hellmuth win a point against a professional tennis player in 20 attempts, if the tennis player had serve the entire time?
Hellmuth received 5/1 odds that he couldn't pull it off and ended up betting $4,000. If he were to win a single point, or if the professional tennis player double-faulted a total of 4 times, Hellmuth would win $20,000.
The professional tennis player was Ellis Guernsey, who is a US-based professional tennis player.
To make things interesting, Guernsey sports a serve that travels upwards of 125 miles per hour.
Hellmuth, who is in his mid-50s, was going to have a nearly impossible time just returning serve, let alone winning an entire point.
-
The prop bet went about as you would expect - Hellmuth was flailing madly and missing completely as Guernsey rocketed serves past him.
At the end of the day, Hellmuth lost the $4,000 wager, and missed out on a potential payday of $20,000.
Here is how the bet ended up playing out:
-
Any prop bet that involves beating a professional athlete is usually a bad one to undertake.
--
Filed Under:
Other Poker News