Nine Events Will Feature Buy-Ins of At Least $25,000
Published on January 29th, 2020 1:11 pm EST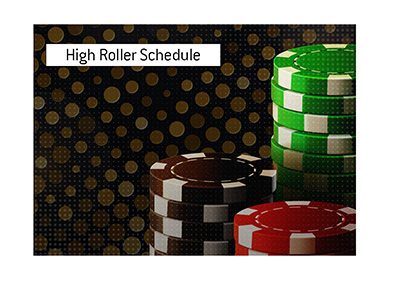 World Series of Poker organizers are slowly dripping the schedule for the 2020 WSOP to the world.
In the past few weeks, we've heard about the low buy-in events that target casual players, as well as the assortment of Championship events.
Earlier today, the World Series of Poker announced the schedule for all of the High Roller events that will be taking place this summer in Las Vegas.
In total, there will be nine bracelet events that will feature a buy-in of at least $25,000. Of these nine events, two are straight freezeouts while the remainder will allow a single re-entry.
There will be three events with buy-ins of $25,000, four events with buy-ins of $50,000, one event with a buy-in of $100,000 and one last event with a buy-in of $250,000.
In total, these nine events will have total buy-ins of $625,000, and that doesn't include potential re-buys.
-
Here is the schedule for the nine High Roller events that were announced earlier today:
May 29th, $25,000 High Roller No Limit Hold'em
May 31st, $25,000 Heads Up No Limit Hold'em
June 5th, $50,000 High Roller No Limit Hold'em
June 17th, $25,000 High Roller Pot Limit Omaha
June 22nd, $50,000 Poker Players Championship
June 27th, $250,000 Super High Roller No Limit Hold'em
July 7th, $50,000 High Roller Pot Limit Omaha
July 9th, $50,000 High Roller No Limit Hold'em
July 11th, $100,000 High Roller No Limit Hold'em
Source: WSOP.com -
2020 WSOP Schedule Features Nine High Roller Events
--
Filed Under:
The World Series of Poker