Both Sites Left Apologizing To Players After Suffering Outages
Published on February 11th, 2020 8:26 am EST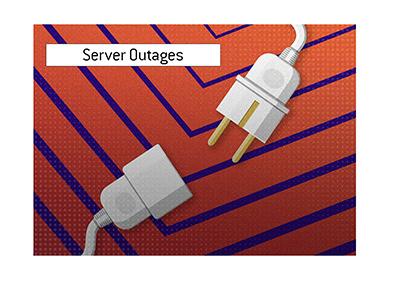 Some of the biggest poker streamers on Twitch.tv will stream partypoker and/or America's Cardroom. These streamers were left to twiddle their thumbs on Sunday evening after two of the biggest poker rooms in the world, partypoker and America's Cardroom (ACR), both went down in the middle of the busy Sunday evening session.
For both sites, the outages were particularly embarrassing as they came at the height of the major Sunday tournaments. The sites were left to apologize to their players on Twitter, and both sites promised that refunds would be figured out and distributed within a couple of days.
Every poker site has to deal with outages - that is just part of the game. partypoker and ACR, however, have both had multiple major outages on Sundays in recent months, and this has led to growing anger from their customers.
-
partypoker is attempting to gain market share from Pokerstars, which is the 800 pound gorilla of the space. partypoker has done a great day of things for the most part, as they have instituted a number of player-friendly changes, and their software is much improved from recent years.
Outages, however, help to undo all of that good work, and there is no doubt that they will lose their recent gains if they don't get their server uptime situation figured out.
ACR is a popular choice for American players, and this in turn leads to people from other parts of the globe playing on the site as well, as they have some pretty decent turnouts for their tournaments. ACR has also had some pretty major outages and needs to figure things out, or else they risk giving up all of the gains that they've made as well.
-
Pokerstars was the beneficiary of these outages on Sunday.
Partypoker can make all of the positive changes that they want, though they clearly need to invest in their infrastructure to make sure that they don't crash at the most inopportune times. Until that happens, Pokerstars' grip on the online poker world will remain absolute.
--
Filed Under:
Online Poker Rooms