ESPN, ESPN2 To Telecast Over 40 Hours of Live WSOP Content
Published on February 20th, 2020 7:56 pm EST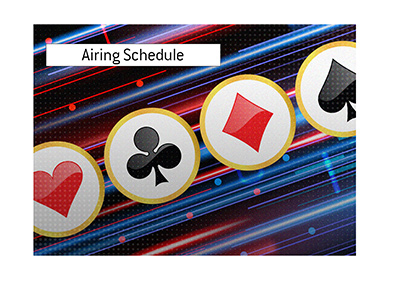 Earlier today, Poker Central and ESPN revealed their live coverage schedule for the 2020 World Series of Poker, which gets underway in late May.
More than 40 hours of live WSOP coverage will be aired on ESPN/ESPN2, as well as an additional 90 hours of "originally produced episodes".
In addition, Poker Central will be airing coverage of other bracelet events via their direct-to-consumer PokerGO offering.
-
ESPN continues to scale back on the amount of World Series of Poker content that is broadcast on their biggest channel, ESPN.
In 2020, ESPN will only air three days of live coverage via ESPN, with the rest of the main event will be aired on ESPN2.
The final day of play in the main event, which takes place on July 14th, will be one of the days that will air on ESPN.
-
Here is the full airing schedule for ESPN/ESPN2:
July 1st, 8 pm - 1 am, ESPN2, WSOP Main Event Day 1A
July 2nd, 9 pm - 11 pm, ESPN, WSOP Main Event Day 1B
July 2nd, 11 pm - 1 am, ESPN2, WSOP Main Event Day 1B
July 3rd, 8 pm - 1:30 am, ESPN2, WSOP Main Event Day 1C
July 4th, 7:30 pm - 10 pm, ESPN, WSOP Main Event Day 2AB
July 5th, 10 pm - 1 am, ESPN2, WSOP Main Event Day 2C
July 6th, 10 pm - 2 am, ESPN2, WSOP Main Event Day 3
July 7th, 7 pm - 11 pm, ESPN2, WSOP Main Event Day 4
July 8th, 10 pm - 2 am, ESPN2, WSOP Main Event Day 5
July 9th, 8 pm - 12 am, ESPN2, WSOP Main Event Day 6
July 10th, 10 pm - 12 am, ESPN2, WSOP Main Event Day 7
July 12th, 10 pm - TBD, ESPN2, WSOP Main Event Day 8
July 13th, 10 pm - TBD, ESPN2, WSOP Main Event Day 9
July 14th, 9 pm - TBD, ESPN, WSOP Main Event Day 10
Source: WSOP.com -
Poker Central and ESPN Announce Live Broadcast Schedule for 2020 WSOP
--
Filed Under:
The World Series of Poker