Catastrophic Turn of Events For Sports Betting Focused Online Gaming Operations
Published on March 17th, 2020 8:11 pm EST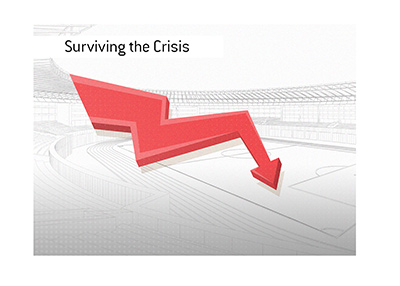 Online gambling companies are having to deal with a double whammy right now - a stock market that is in free-fall and a sports world that has essentially come to a complete standstill.
Nowhere is this more evident than William Hill, which has lost nearly 50% of its value in just two days of trading.
At the start of trading on Wednesday, March 11th, shares of William Hill were trading at roughly 130.00p per share.
Fast forward to the end of trading today (Tuesday), and shares of William Hill closed at less than 50p per share, meaning that the company has shed nearly 60% of its value in just a week.
-
The entire gambling industry has taken it on the chin over the past few weeks, though William Hill has proven to be especially vulnerable.
After all, companies like GVC Holdings operate a more diverse business that sees a large percentage of their revenues come from their online casino and online poker operations. Online poker and online casino both continue to do extremely well during these strange times, as many people are quarantined and looking for something to do.
William Hill is very vulnerable as a large % of their revenues come from their sports betting operations, both online and at its British high street shops.
Essentially every sporting league and event in the world have ground to a halt, save for some dog racing and some international soccer leagues that continue to run.
Euro 2020 has been postponed, the Grand National has been cancelled and there is a very good chance that the world's biggest sports leagues lost the rest of their seasons.
For companies like William Hill, this spells disaster.
William Hill suspended its dividend earlier today and warned that they could face an impact of 100-110 million pounds on their core earnings.
-
The big question now becomes - which of the major gaming companies will survive this crisis?
--
Filed Under:
Online Poker Rooms