Published on September 20th, 2007 4:48 pm EST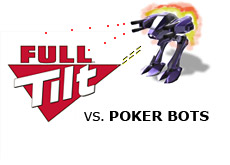 Many Full Tilt Poker players woke up today to find out that they have received emails from Full Tilt Poker, informing them that they would be receiving money after FTP management busted numerous accounts that had been using "unauthorized" software.
The amounts returned so far, from what I have seen, have ranged from $50 all the way up to $2000. FTP has said that they used a formula consisting of the number of hands played against the "bots" as well as the amount won/lost to them.
Apparently these "bots" were playing Heads Up Limit Hold'em cash games.
Suspicion amongst members of the poker community grew due to timing tells, the fact that these suspected bot accounts never played against each other, and also the fact that the bots had basically the same stats in terms of pre-flop aggression, etc.
This investigation has been ongoing for months now.
Two of the suspected "bot" accounts were JapintheSack and BeatMe1, though until we receive confirmation of this fact from Full Tilt Poker, please take this as an unconfirmed rumor.
If you have played heads up limit hold'em cash games in the past 6-12 months, you might want to check your email, as you could have something from Full Tilt Poker as well as a refund in your account.
The offending players had their accounts seized, and all of their funds were distributed to players who had played against them.
Makes you wonder how many bots are operating out there that haven't been caught yet?
--
Filed Under:
Online Poker Rooms