New Dates Have Not Been Announced as of Yet
Published on April 20th, 2020 4:11 pm EST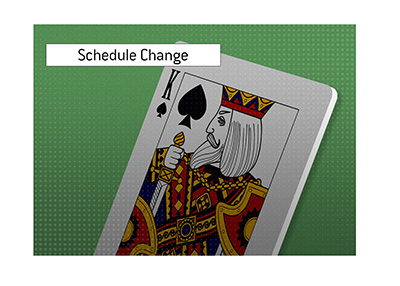 Earlier today, the World Series of Poker was officially postponed until sometime in the fall.
The exact dates for the fall event have not been revealed as of yet.
Here is what Ty Stewart, Executive Director for the World Series of Poker, said in a statement:
"We are committed to running the World Series of Poker this year but need additional time to proceed on our traditional scale while prioritizing guest and staff well-being.
In the interim, official WSOP competitions are expected to be played online this summer, and we will soon announce details of an expanded series of tournaments to be played on WSOP.com and through partnership with international operators, which will allow players to chase WSOP glory from their homes."
-
Changes to the World Series of Poker schedule are expected as a result of the postponement, though tournament organizers promised that the $10,000 main event will be included in any new schedule.
The next scheduled WSOP event is the Global Casino Championship, which runs from August 11th to August 13th.
WSOP Europe is expected to still run in the fall.
Source: WSOP.com -
2020 World Series of Poker Postponed
--
Filed Under:
The World Series of Poker