Shaun Deeb Detailing His Struggles With COVID-19
Published on September 22nd, 2020 6:42 pm EST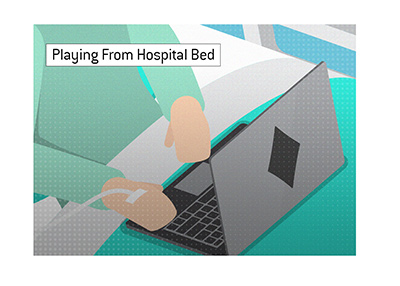 Grinding the WCOOP (World Championship of Online Poker) in Mexico is an annual event for Shaun Deeb.
The trip is usually worth it as well, as Deeb is easily one of the most successful WCOOP players of all time, with many bracelets to his name.
Things took a turn for the worse for Deeb this year, however, as he recently revealed via his Twitter account that he had been diagnosed with COVID-19 while in Mexico.
This diagnosis didn't stop Deeb for his grind, however, as he continued to play in WCOOP events, even while battling the symptoms of COVID-19.
Some people who contract COVID-19 are lucky enough to be asymptomatic or have minor symptoms, though Deeb has really been struggling.
Things have gotten so bad, in fact, that he had to check himself into a hospital in Mexico.
Finally went to my actual room not terrible way better than i was expecting now going to try to sleep and not pull my iv out as I Toss and turn pic.twitter.com/22RJXfGuLo

— shaun deeb (@shaundeeb) September 21, 2020
-
The biggest issue that Deeb seems to have had is getting himself hydrated, as he says that he immediately sweats out any water that he drinks.
Deeb has also complained about severe chills and a number of other unpleasant symptoms.
-
Deeb has always been known as one of the most consistent grinders out there, though grinding the WCOOP while battling COVID may elevate him to another level altogether.
Source: Twitter.com -
Shaun Deeb
--
Filed Under:
Other Poker News