Heads Up Match Will Air on PokerGo
Published on February 26th, 2021 6:00 pm EST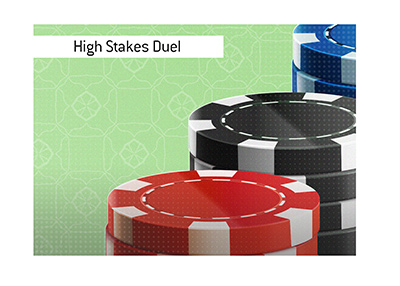 The high stakes "duel" between Daniel Negreanu and Phil Hellmuth is a go.
According to Negreanu, the match will take place in "mid March".
The match will take place in the live format, with the entirety of the clash set to air on PokerGo.
-
According to PokerGo, the two men will be playing a "High Stakes Duel" with rules that look like this:
1. Negreanu and Hellmuth will each post $50k, with the winner getting $100k.
2. The "duel" will last until one of the players has won.
3. "Losing players may play the next round by matching the outstanding prize pool within three days of the lost match". A loser may rematch up to three times in a single duel series.
-
Following the conclusion of Negreanu's battle against Polk, Hellmuth has some less-than-nice things to say about Negreanu's play in the match.
This led to some back-and-forth, which led to a heads-up match being offered and accepted.
-
PokerShares.com has odds up on the match, with Negreanu being an early favourite to win:
Daniel Negreanu, 1.63
Phil Hellmuth, 2.36
According to Polk, Negreanu improved tremendously over the course of their match and will be looking to make good use of his newfound heads-up knowledge.
Hellmuth, on the other hand, is considered one of the best No Limit Hold'em tournament players in the world, and will certainly be a tough match for Negreanu.
--
Filed Under:
Other Poker News