Phil Hellmuth and Daniel Negreanu Set For May 5th Rematch
Published on April 10th, 2021 11:39 pm EST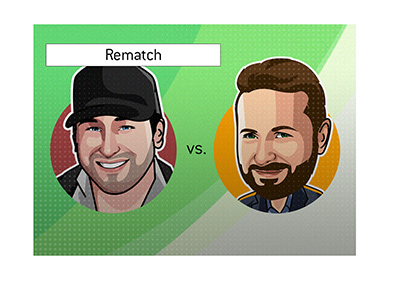 After losing his first "High Stakes Duel" match against Phil Hellmuth, Daniel Negreanu had the option of demanding another match.
The date for that rematch has now been set, as Hellmuth and Negreanu are set to square off on May 5th, with the match being broadcast on PokerGO at 5 pm Vegas time.
Despite losing the first match, Negreanu has opened as a considerable favourite to win the rematch.
-
Both players will be putting up $100,000 this time around, up from the $50,000 buy-in of the first match.
The match is winner-take-all - whoever wins all of the chips on the table will walk away with the full $200,000.
-
Daniel Negreanu is absolutely salivating to play his rematch against Hellmuth.
In their first match, Negreanu had a massive 95,000 to 5,000 chip advantage before Hellmuth was able to turn the tables and win the match.
Negreanu believes that he is the clear favourite to win the rematch, as evidenced by this Tweet:
Looking for action on the rematch laying -1.50 vs @phil_hellmuth

Iím struggling to find anyone who wants the other side at -1.50 so if I know you, and you want up to $200k let me know!

1.50 is a heavy price for a sit ní go! Come and get it!

— Daniel Negreanu (@RealKidPoker) April 1, 2021
-
Can Hellmuth frustrate "Kid Poker" and win again, or will Negreanu get his revenge?
--
Filed Under:
Other Poker News