Quick Rise of GGPoker Has Pokerstars Scrambling To Respond
Published on July 23rd, 2021 7:00 pm EST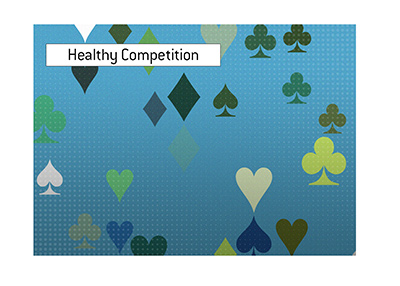 When you are the clear market share leader in an industry, you can get away with plenty.
A few years back, Pokerstars a massive lead over its competition.
This led to the company looking to increase its bottom line, which led to plenty of rake and policy changes that infuriated the poker community, including the elimination of the Supernova and Supernova Elite programs.
The poker community had to eat these changes - after all, if you wanted to find a game, Pokerstars was the place to go. Many players weren't happy about it, though they continued to frequent the site.
-
Fast forward a few years, and Pokerstars finally has competition in the form of GGPoker, which has quickly rose in prominence to challenge Pokerstaras as the king of the industry.
GGPoker has made a number of savvy moves over the years to grow their player numbers, including the implemention of generous rakeback, popular features like staking and card squeezing and the signing of players such as Daniel Negreanu and Bertrand Grospellier.
While GGPoker was growing and innovating, Pokerstars was stagnating, trying to squeeze more and more out of their players.
-
Competition is a good thing, and GGPoker's success has finally led Pokerstars to respond.
One of the first changes that looks to be coming is the re-introduction of a generous rakeback program at Pokerstars.
The site is currently testing a volume-based rewards program that can see players earn cashback of up to 65. This program, which is running on a trial basis until the end of September for a select group of players, includes a base rewards program of 15-25%, as well as the opportunity to earn up to an additional 40% in cashback via Monthly Challenges.
Pokerstars, which certainly didn't care about players when making rake changes that were to their benefit, suddenly say that they are "listening" to the concerns of their players in testing out this new rewards program.
Translation: GGPoker is eating into our market share and we want it back.
-
In the past, Pokerstars said that they were making company-friendly changes to their rewards program in order to create a healthier ecosystem that would appeal more to recreational players.
They had the luxury to do this at the time thanks to their massive market share advantage.
Now, with GGPoker continuing to surge, Pokerstars is finally needing to answer, and this is good news for the online poker community.
Competition is always a good thing, and the online poker industry is just another example of that.
--
Filed Under:
Online Poker Rooms