Published on October 10th, 2007 2:02 am EST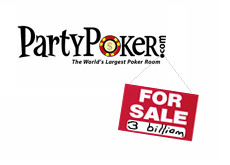 In an interview at the EIG 2007 I-gaming conference, PartyGaming CEO Mitch Garber said that he would be interested in pursuing talks with Las Vegas based casinos regarding a possible sale, according to an article in the Financial Times.
According to the article, Garber refused to say whether or not he was already involved with talks with a particular company. An un-named analyst in the article listed The Mirage and the Bellagio as two potential casinos that might be interested in buying PartyGaming.
The big question is, would a casino such as the Bellagio be interested in splashing out the likely $3 billion dollars+ that it would take to purchase PartyGaming? Is this just wishful thinking on the part of Garber, or can you see a potential marriage here?
Hypothetically speaking, if the Bellagio or another casino did purchase PartyGaming, how would this change the online poker landscape? What kind of changes would be in store for the people who are still able to play on Party Poker?
And more importantly, how would an acquisition such as this change the online gambling landscape in the United States? Let's say that the Bellagio did purchase PartyGaming in order to target users outside of the United States, and things went really well. How long would it be before they were lobbying for online gambling to be regulated and legalized in the United States so that they could target that market as well?
Or is this just all wishful thinking on the part of PartyGaming? Can you see the Bellagio or the Mirage purchasing PartyGaming?
--
Filed Under:
Online Poker Rooms