Orenstein's Invention Changed Poker Forever
Published on December 24th, 2021 10:13 pm EST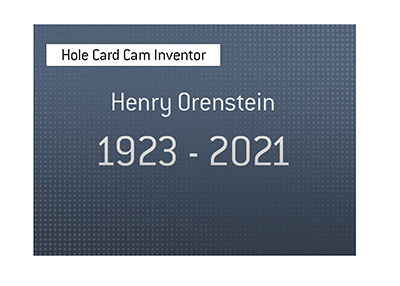 Earlier this week, Henry Orenstein passed away at the age of 98 due to COVID-19 complications.
Orenstein is likely best known for being the creator of the "Transformers" toys, though he also invented something that would change the poker world forever.
Orenstein patented the "Hole Card Camera", which helped to popularize the game of poker around the world.
Orenstein's invention was simple yet transformative - a video camera mounted under a glass panel at poker tables that would allow viewers to see the hole cards that players were dealt.
Thanks to this invention, viewers were able to easily see how the top poker minds in the world played. Was Phil Ivey bluffing or did he actually have a hand? Now viewers could know the answer to this question in real time, and this helped to popularize the game of poker throughout the world.
-
Orenstein was granted a patent for the under-the-table hole card cam on September 19th, 1995.
"Late Night Poker" was the first television show to start using the technology back in 1999.
The technology really started to gain traction in 2002, when ESPN began including it in their World Series of Poker broadcasts.
This was a year before the 2003 World Series of Poker, which is when Chris Moneymaker won the main event, transforming the game of poker forever.
-
The placement of the "hole card cam" would vary, with some broadcasts utilizing the traditional under-the-table glass panels, and others using a camera in the rail.
-
Prior to Orenstein's invention, viewers would have no idea what cards players were holding, and this significantly detracted from the viewer experience.
There is no doubt that poker would not be anything closer to what it is now without Orenstein's invention.
--
Filed Under:
Other Poker News