"Texas Gamblers Reunion" in 1969 Was The Seed For World Series of Poker
Published on May 25th, 2022 2:47 pm EST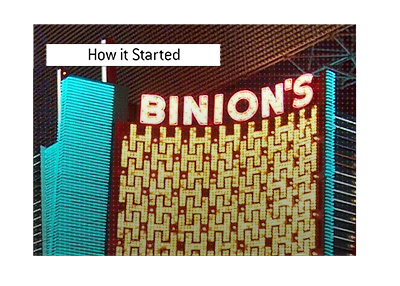 The "World Series of Poker" officially started in 1970, though the seed for the world's biggest poker festival was actually planted in 1969, with the first (and only) "Texas Gamblers Reunion".
This event, which was held at the Holiday Casino in Reno, was a multi-day cash game bonanza that included some of the biggest poker players in the world at that time, including the likes of Benny Binion, Doyle Brunson and Johnny Moss, to name a few.
Tom Moore and Vic Vickrey organized the "Texas Gamblers Reunion", and they should be given some of the credit when it comes to the creation of the World Series of Poker.
The venue was small, and after Moore and Vickrey declined to host the event for a second year, Benny Binion decided to host the "World Series of Poker" at his casino, Binion's Horseshoe, in 1970.
The 1970 World Series of Poker didn't have much substance to it - in fact, it was the same group of players as the "Texas Gamblers Reunion", indulging in some high-stakes cash games for a few days at Binion's Horseshoe. Johnny Moss was declared "best all-around player" by the rest of the players at the event, and he claimed the first ever World Series of Poker title.
A reporter for the Los Angeles Times, Ted Thackrey, declared that the event was "too boring". Amarillo "Slim" Preston apparently agreed as well, and suggesting making the event a series of freezeout tournaments.
Binion thought that there was something missing with the 1970 event as well, so he decided that the 1971 World Series of Poker would indeed feature a number of freezouts, including a $5,000 freezeout for the main event. With a tournament format, the true "World Series of Poker" champion could be declared.
-
Just
7
players participated in the 1971 World Series of Poker main event, a far cry from the many thousands of players who now turn out for the event every year.
Johnny Moss would win the 1971 main event, defeating Walter "Puggy" Pearson in heads-up play to take home the entire $30,000 prize.
There was so little coverage of the event that people aren't even 100% certain that Pearson finished in second place, or what the final hand of the tournament was.
-
The World Series of Poker would slowly grow over the coming years, though it was hard for the event to garner any significant media coverage.
It would take until 1982 for the main event to feature a field of more than 100 players.
--
Filed Under:
The World Series of Poker