Published on October 25th, 2007 5:01 pm EST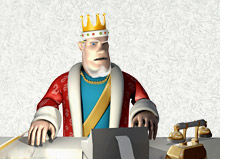 In terms of news flow, the last year or so has been absolutely disastrous for online poker.
First you had the UIGEA being snuck into the SAFE Port Act.
Then you had a large number of poker rooms such as Party Poker and Paradise Poker pulling out of the US market due to the UIGEA.
Then you had the agonizing waiting period as the management of Pokerstars, Full Tilt Poker, Bodog and Ultimatebet made their decisions as to whether or not they would remain in the US market. Thankfully, they did.
Then you had many of the e-wallets stop serving US customers, which made it much harder to move funds in and out of online poker sites.
Then you had the entire Neteller debacle, which saw many Americans have their funds frozen for a period of many months. The most popular method of depositing and cashing out of poker rooms was taken away for American players.
Then you had several new allegations of multi-accounting, and several new lifetime bannings from some of the major online poker sites.
Then you had arguably the worst two World Series of Poker champions EVER in terms of marketability for the game, Jerry Yang and Jamie Gold.
Then you had the ubiquitous presence of "JJProdigy", who still has a major presence in the game that he was supposely banned from almost two years ago.
Then you had the Full Tilt Poker bot situation, which saw Full Tilt Poker re-imburse many of their high limit Limit Hold'em players after "Bots" were discovered operating on the site.
Then you had the entire WCOOP situation with their champion being disqualified amid allegations of cheating.
Then you had the Absolute Poker scandal.
I am sure that I am forgetting some of the scandals and other pieces of bad news that hit online poker in the past 12-18 months.
If I had sat down with you and told you 18 months ago that all of this was going to go down, you probably wouldn't have given online poker much chance of surviving.
The thing is, no matter how hard some people may try to kill it (from the outside and from the inside), online poker just won't die. In fact, in many parts of the world, online poker is thriving. And although it may be a bit harder to get money online for American players, this hasn't stopped Americans from logging into their favorite sites and playing. Despite the best efforts of many, online poker isn't going anywhere anytime soon.
You would have to think that eventually the tide will turn and we will have some positive news for online poker. Party Poker returning to the US market? A legal slap-down of the UIGEA?
--
Filed Under:
Online Poker Rooms
|
UIGEA