Published on January 6th, 2008 7:08 am EST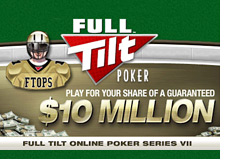 Full Tilt Poker has released the schedule for FTOPS VII. According to their site, there will be twenty events and $10 million dollars in guaranteed money. The main event will have $2 million dollars guaranteed in the prize pool, and FTP will also be having the $2500, two-day event again this time around. "fkscreennames" took down the main event of the last FTOPS for $385k.
FTOPS 7 kicks off on February 6th with the $200 NLHE $750k Guaranteed event, and ends on February 17th with the $2 million dollar Guaranteed NLHE main event.
Here is the complete schedule:
Feb 6 - $200 + $16 No Limit Hold'em ($750k Guaranteed)
Feb 7 - $240 + $16 Pot Limit Omaha Knockout ($100k Guaranteed)
Feb 7 - $500 + $35 H.O.R.S.E. ($300k Guaranteed)
Feb 8 - $200 + $16 Pot Limit Hold'em ($100k Guaranteed)
Feb 8 - $200 + $16 Limit Hold'em 6-Max ($150k Guaranteed)
Feb 9 - $500 + $35 Pot Limit Omaha 6-Max ($250k Guaranteed)
Feb 9 - $100 + $9 No Limit Hold'em Rebuy ($400k Guaranteed)
Feb 10 - $120 + $9 No Limit Hold'em 6-Max Knockout ($150k Guaranteed)
Feb 10 - $300 + $22 No Limit Hold'em ($1 Million Guaranteed)
Feb 11 - $1000 + $60 No Limit Hold'em 6-Max ($1 Million Guaranteed)
Feb 12 - $200 + $16 Limit Omaha Hi/Lo ($200k Guaranteed)
Feb 13 - $300 + $22 No Limit Hold'em 6-Max Rebuy ($1 Million Guaranteed)
Feb 14 - $200 + $16 HA ($100k Guaranteed)
Feb 14 - $300 + $22 RAZZ ($150k Guaranteed)
Feb 15 - $200 + $16 No Limit Hold'em 6-Max ($150k Guaranteed)
Feb 15 - $200 + $16 Stud ($100k Guaranteed)
Feb 16 - $2500 + $120 No Limit Hold'em Two Day Event ($1.5 Million Guaranteed)
Feb 16 - $100 + $9 Pot Limit Omaha Rebuy ($300k Guaranteed)
Feb 17 - $240 + $16 No Limit Hold'em Knockout ($300k Guaranteed)
Feb 17 - $500 + $35 No Limit Hold'em Main Event ($2 Million Guaranteed)
--
Filed Under:
Online Poker Rooms