Published on February 3rd, 2008 8:43 pm EST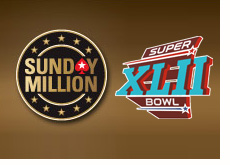 Many people were speculating that some events on Pokerstars, especially the Sunday Million, would have an overlay today due to many people choosing to watch the Superbowl instead of playing poker.
Well those people were wrong, as traffic on Pokerstars today has been remarkably strong, all things considered. I know that many people throughout the world don't care about the Superbowl and would be playing poker regardless; however, 6 pm EST on a Sunday is prime playing time for American poker players, and I am surprised that Pokerstars has easily hit their guarantees in many tournaments today.
For instance, the Sunday Million had 6266 people register for a total prize pool of $1.253 million dollars, easily topping the $1 million dollar guarantee.
The $11, $45k Guaranteed rebuy tournament had a whopping 2662 people register, creating a total prize pool of more than double the guarantee (96k).
The $55, $25k Guaranteed tournament had 1232 people register for a total prize pool of almost $62k.
The Sunday Hundred Grand was maxed out, with 20,000 people registered to play.
The Sunday $5200 Freezeout still went off with 20 players registering, including the likes of Dario "Dariominieri" Minieri, last week's winner, Chad "Lilholdem954" Batista and Jeff "Actionjeff" Garza. "Mig.com" and "ElkY" ended up chopping, with "ElkY" receiving about $25k and "Mig.com" getting the rest.
Sure these numbers aren't as strong as other Sundays, but considering that many Americans are watching the big game today, it's very impressive.
Many players that I spoke with were still planning on playing on their laptops while watching the game, which is why the total numbers today weren't as terrible as most people were first expecting.
Whether it's Christmas Eve, New Year's Eve or Superbowl Sunday, players continue to flock to Pokerstars to play on Sundays.
--
Filed Under:
Online Poker Rooms