Published on February 16th, 2008 11:11 pm EST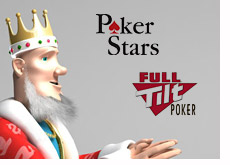 Sunday, February 17th will be one of the busiest days EVER in the history of online tournament poker. There are so many big events taking place on Sunday that I don't even know where to start. You will have your normal weekly events on sites such as Bodoglife and Ultimatebet, but the real action will be taking place on Pokerstars and Full Tilt Poker.
Let's start with Full Tilt Poker. On Sunday the FTOPS will be wrapping up.
To start, the conclusion of FTOPS #17 will take place. This is the $2500 + $120, two day No Limit Hold'em event that features one of the richest pools of talent to ever play in one single online poker tournament. I believe that they play down to a final table on Saturday, and then the final table takes place on Sunday (correction: they played down to 88 players tonight, and the tournament is now paused until Sunday). As I write this, there are currently 91 players left in the event, including the likes of Chad "jse81" Batista, Darrell "Gigabet" Dicken, Gavin Smith and Scott "Bigriskky" Clements, amongst a host of other well-known poker talent.
Then on Sunday we have two more FTOPS events. FTOPS #19, which is a $240+$16 No Limit Hold'em Knockout tournament with a $300k Guarantee. Then, the main event of the FTOPS, which is the $500+$35 No Limit Hold'em Main Event which has a guarantee of $2 million dollars. I would expect the prize pool to be closer to $3 million.
The FTOPS is getting progressively larger with each passing event. For instance, the $2500 event has a prize pool of $2.122 million dollars this year, compared to a prize pool of $1.745 million last year. All of the events this year easily met their guarantees, which is extremely good news for FTP. The main event had a $2.185 million dollar prize pool last year - as I said, I am expecting much more this year.
Now FTP is busy on Sunday, but Pokerstars is just ridiculous.
To start with, Pokerstars is offering their "$2 Million Turbo Takedown" on Sunday. This was obviously done to take some of the spotlight off of Full Tilt Poker on Sunday. This tournament is unique in that there is only one way to buy in - 10,000 FPP's. There is a total of $2 million dollars in the prize pool, with first place receiving $200k. A total of 4000 players will receive some kind of a payout. There will be 3k in starting chips and 10 minute levels. After level 18, the structure will slow, giving players a bit more play. There are currently 6,025 players registered to play in this event (it begins at 2:30 pm EST on Sunday) with a maximum number of entrants of 12,000. If you are thinking of registering, I would do so now. Pokerstars is offering around the clock FPP satellites just in case you don't quite have 10k FPPs in your account.
Pokerstars has said that they are going to be watching how this tournament is received on Sunday before deciding whether or not to run another one.
As if this event wasn't enough, Pokerstars is still running their Sunday Million event. In addition to these two tournaments, Pokerstars will also be running:
-the Sunday $100k
-the Sunday $5200 Freezeout
-the High Stakes Showdown
-the Sunday Warm-up
-the Sunday Second Chance
-the $215 Rebuy tournament that runs on Sundays
Also, there will be the usual $109 rebuy events, etc. on the site.
Tomorrow is going to be an extremely busy day on both sites, with a lot of money being made by certain lucky players and of course, the two sites. Good luck to everyone who is planning on playing in any of the events, and I hope that you have a good multiple monitor set-up, because you are going to need it.
--
Filed Under:
Online Poker Rooms