Published on March 4th, 2008 4:05 pm EST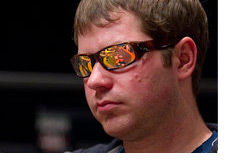 Just a few short months after signing a sponsorship deal with Full Tilt Poker, Jonathan "Fieryjustice" Little has been let go by the company for "violating their terms and conditions".
Full Tilt, in a posting made on their message board earlier today, said that Little is "no longer affiliated with Full Tilt Poker" and that his account had been closed.
Full Tilt goes on to say that they closed his account due to Little allowing other players to play on his account. A standard FTP sponsorship agreement includes 100% rakeback, plus an hourly rate for playing on the site. The Little account had been logging an enormous amount of time on the site recently. Obviously Full Tilt Poker grew suspicious and decided to investigate his account, and presumably found multiple IP addresses were logging into the "Jonathan Little" account.
The "Jonathan Little" account had played in a tremendous amount of SNG's in February, and under a standard FTP agreement, would have generated tens of thousands of dollars in rakeback and hourly fees. A FTP sponsorship deal can be extremely lucrative if a pro is planning on putting in a tremendous amount of hours on the site. Full Tilt wouldn't have a problem with a signed player maximizing the earning potential of their contract to the best of their abilities, but they would obviously have a problem if someone else was playing under the Pro account.
Full Tilt's entire marketing campaign is "Play with the Pros", and if you have other people playing on a pro's account, then you will obviously have a big problem, and I am not surprised that Full Tilt acted so swiftly.
Little rose to prominence after several strong showings at the World Poker Tour, and signed a deal with Full Tilt Poker shortly after his second place finish at the WPT North American Poker Championships.
Photo: GreasieWheels.com
--
Filed Under:
Online Poker Rooms