Published on March 7th, 2008 7:27 pm EST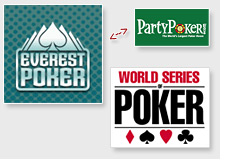 If you are a Partygaming shareholder right now, you can't be liking what you are seeing.
As if there wasn't enough bad news this week for Partygaming shareholders (revenues slowing, CEO announces that he is leaving, major shareholder dumps a number of shares, analysts question whether the company can meet profit expectations). Now they have to deal with the loss of Party Poker's WSOP sponsorship, which involved having their logo on every single poker table at the event, amongst other things.
Everest Poker will certainly benefit from this sponsorship, as their poker room is right on the cusp of becoming very well-known. They are currently the sixth largest poker network in the world according to Pokerscout.com, just two slots behind Party Poker (Pokerstars and Full Tilt Poker are well out in front).
I am not sure what Partygaming's plan of attack is right now in terms of increasing their market share, but the loss of their WSOP sponsorship certainly won't help. If they are planning on cutting marketing costs to compensate for slowing revenues then they are making a grave mistake. They are really running the risk of being permanently left behind by the rooms that they are chasing.
For Everest Poker, this move is a no-brainer and will go a long ways towards building up their player base. This is a multi-year agreement, so you can expect to see Everest Poker logos at the World Series of Poker for years to come.
--
Filed Under:
The World Series of Poker