Published on March 10th, 2008 1:29 am EST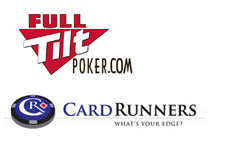 Full Tilt Poker and Cardrunners.com have inked a deal that will see a number of the top young poker players in the world join the Full Tilt Poker pro roster.
According to a Full Tilt Poker press release, "Team Cardrunners", comprised of Taylor "Green Plastic" Caby, Cole "cts" South, Brian "sbrugby" Townsend, Eric "p3achy_keen" Liu, Brian "Stinger885" Hastings, Mike "Schneids" Schneider and Andrew "muddywater" Wiggins, will all be joining the Full Tilt Poker pro roster and playing exclusively at Full Tilt Poker.
Full Tilt have locked up some of the best young talents in online poker today in one fell swoop. This sounds to me like a smart deal for both sides.
Cardrunners.com is growing in leaps and bounds, and now has approximately 10,000 members signed up to their service. According to their website, they have 600 instructional videos that are available to their members.
Cardrunners also have a number of "Guest Pros" that include the likes of Aaron Been, Ryan Daut and Isaac Baron.
Full Tilt Poker have just significantly increased the overall pool of talent that they have under contract. Full Tilt have been aggressively pursuing young talent as of late, recently signing the likes of Scott "Bigriskky" Clements and Jared "TheWacoKidd" Hamby to sponsorship deals.
The rush to sign top young talent to sponsorship deals continues. Who will be next?
--
Filed Under:
Online Poker Rooms