Published on March 21st, 2008 2:37 am EST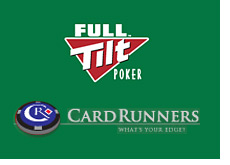 In case you haven't been following this story, here is what has taken place so far:
1. FTP and Cardrunners sign a deal that will see members of "Team Cardrunners" become red Full Tilt Poker pros.
2. Questions soon arise as to how Cardrunners will maintain the quality of their videos while playing under "red pro" accounts.
3. A proposed solution is floated by both Cardrunners and FTP that would allow Cardrunners "pros" to play under anonymous accounts. In addition, anyone playing at the table would receive an email after the fact, explaining that they were playing against a "disguised" pro. They would receive some sort of compensation (like FTP points) for participating at the table, and people who would end up losing money to the pro would receive some sort of "additional" compensation.
4. Chaos erupts. People question why FTP would change their "one person to an account" rule just to accommodate a new business deal. A host of other questions and concerns pop up. Generally people think that this proposed "solution" is sloppy and ill-advised.
5. The discussion dies down slightly as FTP and Cardrunners go silent, presumably coming up with an alternative "solution".
6. An alternative "solution" is announced tonight by a representative of Full Tilt Poker. It would involve:
-the creation of "Educational" tables. If you sit at one of these tables, you would see a pop-up that would alert you to the possibility that you could be playing against a "disguised" pro. These tables would be marked with an "EDU" in the lobby, and you would need to accept the terms before sitting at the table
-Cardrunners instructors would request a temporary name change from Full Tilt security that would last the duration of their "educational" session. After this session ended, they would revert back to their "pro" name. Their "red pro" status would disappear for the "educational" session as well
-these "temporary" accounts would only be able to sit at "Educational" tables
-all players who take part in this recorded session would receive some kind of a bonus based on the limits that they are playing at (exact amounts yet to be determined)
-no educational tables higher than 5/10 NLHE
This is obviously a much better solution, as people will now have the choice of whether or not they want to appear in an educational video.
What do you think about this revised solution?
One thing is for certain: Full Tilt have big plans for this partnership if they are willing to go to these lengths to make the deal work.
--
Filed Under:
Online Poker Rooms