Published on April 7th, 2008 10:10 pm EST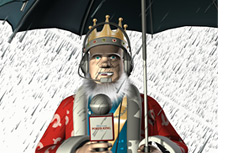 Just about a month and a half after a senseless, poker-related triple murder in Florida comes yet another death. This time it was 61-year old Arthur Prince, who was killed in the valet area just outside of the Trump Taj Mahal in Atlantic City. 57 year-old Vicente Perez will apparently be charged with aggravated manslaughter and various weapons offenses.
This will be the fourth poker-related murder in the last month and a half. In February, Duane Crittenden II was arrested after killing three players at his private poker game. According to police, Crittenden grew enraged after he felt like he was being cheated by the other players at the table. He left for a couple of hours, and then came back armed with a knife and a gun, and proceeded to shoot and stab the other three players in the game.
The circumstances in the Taj Mahal murder in Atlantic City were a little different. First off, the murder occurred in a very public place - the valet area of the Taj Mahal casino. Second, neither participant in the struggle that left one person dead seems to have had any sort of a previous criminal history, unlike the situation in Florida with Duane Crittenden II.
Here is what allegedly happened at the Taj Mahal casino, as relayed to us by various different sources:
-Arthur Prince is playing in a $1/$2 No Limit Hold'em game, and Vicente Perez is on the waiting list
-Arthur Prince loses all of his chips in a hand
-Prince stands up, telling everyone at the table that he is going to get more money from the ATM, and to hold his spot
-the dealer apparently doesn't hear Prince say this, and assumes that Prince is leaving the game. The dealer announces after a short while that a seat is open
-Vicente Perez takes a seat at the table
-Prince comes back to reclaim his seat and finds Perez occupying it
-Prince and Perez get into an argument. Other players at the table claim that they heard Prince say that he was coming back, while the dealer claims to have never heard this
-after ten minutes or so, Perez gets up from his seat and heads to the valet area outside. He has the dealer hold his spot.
-Prince becomes even more enraged because not only does he feel that Perez unjustly scooped his spot at the table, but now Perez isn't even using it
-Prince follows Perez outside and the argument continues. The argument escalates into violence. Apparently Prince starts beating Perez with either a cane or an umbrella. Some published reports have Prince beating Perez with an umbrella; other reports have Prince beating Perez with Perez's own walking cane.
-Perez has a knife on him and proceeds to pull it out and stab Prince in the neck. The knife hits an artery in Prince's neck and blood is gushing everywhere. Prince is pronounced dead at the AtlantiCare Medical Center about an hour and a half later
-an investigation into the event is currently taking place, and Perez is being held on a $500,000 bond
Poker. It's not that serious, is it?
--
Filed Under:
Other Poker News