Published on April 25th, 2008 5:06 am EST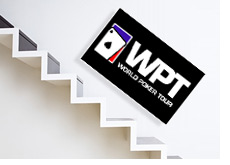 CLUB WPT BONUS CODE:
THEKING
Just when you thought things couldn't get any worse for the stock of the World Poker Tour, they hit a new low.
WPTE closed at $1.26 on Thursday afternoon, giving the entire company a market capitalization of $25.82 million dollars. This is a new all-time low closing price for the company, and a far cry from its all-time high of $29.50 that was hit on July 8th, 2005. Since then, the company has embarked as a slow, painful descent that has seen the company shed literally hundreds of millions of dollars in market cap.
Things don't seem to be improving for the World Poker Tour.
Numbers for their events, most notably the World Poker Tour Championship that is currently taking place, are dwindling.
They are getting much less per episode in their new deal with the Game Show Network compared to their previous deal with the Travel Network. They received 477k per episode in Season 5 - this year they are receiving $300k per episode.
They posted revenues for their online gaming business of $1.2 million dollars for all of 2007, down from $3.2 million dollars in 2006.
They posted a net loss of $9.6 million dollars in 2007.
Revenues decreased $7.5 million dollars from 2006 to 2007.
If you are an investor in this company, you can't exactly be too jazzed about what is taking place right now. The company seems destined for penny stock status.
The company does have a couple of things going for it. It has zero debt, and $31 million dollars in cash and cash equivalents according to their most recently filed annual report.
This means that the current market cap of $25.82 million dollars is less than the company's cash balance.
The company is making some pretty vague and bold predictions.
They claim that they will build out worldpokertour.com and clubwpt.com by offering "best in class poker software, running compelling campaigns and increasing affiliates and partnerships". Oh really? Sounds easy enough.
They go on to further state that they expect 70-80k of revenues PER DAY from their online business by "the end of 2010". They further state that their goal is to have "16,000 to 20,000 subscribers" to "Club WPT" by the end of 2008 and "70,000 to 80,000" subscribers by the end of 2010. So 80,000 people are going to cough up $19.95 a month to join "Club WPT" by the end of 2010? I'll eat my crown if that happens.
The problem with the World Poker Tour is that I just don't see too many positive catalysts for the company in the near future. Buyout? Who would buy them? Liquidation of the company if the stock falls too much lower? I'm not sure that underwater investors and company management would sign off on that.
I suspect that they will continue to tread water and splash around, hoping for some kind of a miracle that will elevate their stock higher from near-penny status. What that miracle could be? Who knows.
--
Filed Under:
Other Poker News