Published on April 30th, 2008 5:35 am EST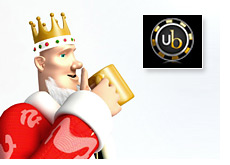 Ultimatebet is taking steps to try and win back some of the customers that have defected to other sites, especially over the past couple of years.
Ultimatebet have seen their market share drop over the past couple of years, due to the following reasons:
-lackluster (to be kind) customer support, especially when compared to Pokerstars
-a massive site outage a few years back that led to many of their customers playing elsewhere
-a constantly changing tournament schedule
-a close association with Absolute Poker (they are owned by the same company)
-cheating allegations of their own (the still yet to be resolved "NioNio" issue)
-buggy software
There are other reasons, including excessive withdrawal fees for checks and a lack of advertising exposure compared to other rooms. This drop in market share has led players to play elsewhere, just because there is not that much action on the site. If you play a late night tournament on Ultimatebet, many times there will just be one table because so few players have entered into the tournament. If you want action, you will certainly move on to other sites such as Full Tilt Poker and Pokerstars.
Ultimatebet seems to be trying to take steps towards winning some of their old customers back.
They recently hired Annie Duke as a consultant. Annie will be overseeing the tournament schedule on the site, and has already made some changes that have drawn applause from the online poker community. So far it is looking like Duke was a smart hire for the company, as she seems to be legitimately interested in giving tournament players what they want. This is a crucial step towards rebuilding the player base on Ultimatebet. So far, so good in that department.
If Ultimatebet really wants to build some positive momentum, they need to do the following things:
1. Eat the withdrawal fees associated with certain methods of withdrawal. $8 to withdraw by check? Why? Any costs involved with processing a check withdrawal is a cost of doing business, and should be swallowed by Ultimatebet.
2. Continue to improve the tournament schedule. They seem to be proactive in this department so far, which is a good thing.
3. Forcefully deal with the "NioNio" situation. It is going to be pretty hard for some people to return to the site if this hasn't been resolved. This has been hanging like a black cloud over the company for the past few months. If you don't know what I am talking about,
here is a link
to Ultimatebet's Interim Statement on the situation, dated March 6th, 2008.
4. Invest heavily in customer service. One of the reasons that people love Pokerstars is because of their exceptional customer support. Surely Ultimatebet is making enough money so that they can hire a couple dozen really strong customer service agents. It would have a big impact in terms of how people view the room. People want their issues dealt with in hours, not days.
5. Continue to improve the software. Ultimatebet's software was one of the main reasons that the site became popular in the first place. There are some issues that need to be worked out; Ultimatebet needs consult with the online poker community and ask people what improvements need to be made to their software. If people feel as though Ultimatebet is legitimately trying to make a change for the better and are listening to any feedback that they receive, then I guarantee you that people will be more comfortable about playing there again.
Are you a former Ultimatebet player? Is there anything that the company can do to win your business back, or are they a lost cause?
--
Filed Under:
Online Poker Rooms