Published on May 2nd, 2008 1:49 am EST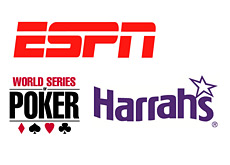 There was a press conference earlier today to discuss the major changes that are coming to the World Series of Poker main event.
Late last night, USA Today reported that the World Series of Poker main event would be paused for 117 days. The main event would play down to 9 players, and then the tournament would be paused, picking up again in November. The reasons for making such a change were immediately obvious - higher ratings and a heightened interest in the final table.
Many players and casual observers couldn't believe the news, but it was confirmed by representatives of ESPN and Harrah's today.
The Main Event will begin on July 3rd and run until July 15th, when the final table is reached. The tournament will then be paused, restarting on November 9th, a full 117 days later. The tournament will then play down from 9 to 2 players, and the final heads-up battle will take place on November 10th. The final table will be broadcast on ESPN on November 11th, just one day after the winner is crowned. This will provide for a "nearly real-time broadcast" and should have a significant impact on ratings. ESPN will have less than 24 hours to cut and edit the final table broadcast.
All nine final table players will be paid out ninth place money on July 15th. The rest of the money will be placed in an interest-bearing account - the players will receive any interest that is accrued during this pause, and not Harrah's. As players are eliminated from the final table, they will receive the remainder of their money based on what position they finish in.
ESPN will air a "Final Table Preview" Show on November 4th that will give brief bios of each player at the final table, and detail what they have been doing during the pause in the Main Event.
Players will now get the opportunity to review footage of the Main Event prior to the final table. They will also be able to receive four months worth of coaching, negotiate lucrative endorsement deals and sell pieces of themselves.
Any player that is unable to attend the final table on November 9th, for any reason, will be blinded off.
Reaction to the announcement so far has been decidedly negative.
--
Filed Under:
The World Series of Poker