Published on May 4th, 2008 5:41 am EST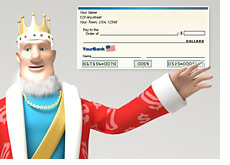 After EPassporte quickly decided to stop processing poker transactions last month, many North American residents decided to switch to EChecks. The major poker rooms, including Full Tilt Poker and Pokerstars, opened up the funding option to many of their players, offering it up as an easy-to-use alternative to Epassporte.
Many players quickly switched to the new funding option, finding it a more-than-suitable alternative to Epassporte or any other funding method.
The problem is that in recent weeks, many players have complained that their withdrawals via ECheck have not shown up. I've heard some people say that their withdrawal requests (by ECheck), going all the way back to the middle of April, have not been processed yet.
Pokerstars support have been telling people that they should receive their money by May 8th. Full Tilt Poker support have been saying that the ECheck cashouts should take 3-5 days longer than it usually takes. Either way, there is a lot of money floating around right now that hasn't yet hit people's bank accounts, and many are starting to get nervous.
Pokerstars have said that the problem is on the ECheck processors side, and that they (Pokerstars) are processing withdrawals at their normal speed.
It is unknown at this time what the exact problem is. Many are speculating that the ECheck processor is struggling with its increased workload after many people switched over from Epassporte. Others think that banks may be refusing to accept the ECheck withdrawals, but this doesn't seem to be the case at all. Some are saying that the poker rooms are "out of money", which is completely laughable and untrue. As always, in situations like this, you will have people starting rumors for the sole purpose of freaking other people out. Rooms such as Full Tilt Poker and Pokerstars are not going to stiff you out of your money - you will receive it eventually, one way or another. People that needed the money immediately are certainly feeling the pinch though, and hopefully they will be compensated in some way for being made to wait for so long.
You might want to hold off on withdrawing via ECheck until the situation is resolved.
We realize that this is a problem that is affecting many people right now, so we are going to update this site again as soon as we hear anything. Hopefully this situation is resolved over the next couple of days.
--
Filed Under:
Online Poker Rooms