Published on May 5th, 2008 4:50 am EST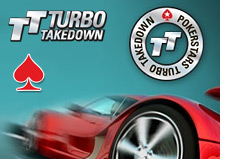 In mid February, Pokerstars held a two million dollar Turbo Takedown event. The event featured two million dollars in total guaranteed prize money, with the top 4000 finishers all getting paid. The tournament featured a unique buy-in - 10,000 FPPs. Those who didn't have 10,000 FPPs had plenty of opportunities to qualify, as Pokerstars offered FPP satellites around the clock. All told, 9600 players entered, with "mombasi" receiving the first place prize of $200,000. The tournament ended up being a big success, generating a significant amount of buzz throughout the online poker community.
Pokerstars have decided to turn the "Turbo Takedown" into a monthly event, held on the last Sunday of each month. If you click on the Special tab under Tournaments in the Pokerstars lobby, you will see that registration for the May 25th Turbo Takedown is now open.
The monthly Turbo Takedown will have a one million dollar prize pool. The buy-in is halved though, as it will now cost you 5000 FPPs to enter.
There will be a maximum of 12,000 players in the tournament, with the top 4000 finishers all getting paid. First place will receive $100,000, second place will receive $60,000, and the 4000th place finisher will receive $90. Assuming that the tournament fills to capacity, one out of every three entrants will get paid. If the tournament doesn't fill up then your odds improve even more, as Pokerstars is guaranteeing the prize money.
The tournament will feature a normal "turbo" structure, up until level 19, when play will slow down.
Pokerstars is offering up around-the-clock satellites to the tournament for those people who don't have 5000 FPPs in their accounts. You can qualify for as little as 10 FPPs.
This tournament offers a great way for players to burn up some of their unused FPPs. It appears as though this monthly tournament will become a permanent fixture on Pokerstars' schedule.
--
Filed Under:
Online Poker Rooms