Published on May 6th, 2008 4:49 am EST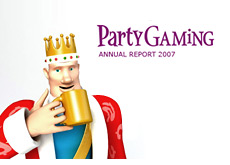 Most of Partygaming's 180-page plus, 2007 annual report was some pretty dry reading, as you can probably expect.
However there were extremely interesting nuggets of information buried deep in the report that give some insight into both Partygaming's operation, and the industry as a whole.
In no particular order, here are the pieces of information that I found most interesting:
-Partygaming's poker revenues were up just 10% from 2006 to 2007, while casino and sportsbetting revenue growth was up 188%
-company revenues were up from $325 million in 2006 to $457.8 million in 2007. $26.6 of the $132.8 million in revenue growth came from their poker operations
-35% of company revenues came from non-poker activities
-924,700 unique and active poker players in 2007 generated a total of 808k in daily poker revenues
-the "yield per active player day" for poker fell to $12.4 in 2007, down from $17.7 in 2006. "Yield per active player day" I believe refers to the amount of gross rake that an active player generates each day that they are active on the site. Partygaming blames this drop on higher value non-US players migrating to sites that still allow US players
-considering that Pokerstars has roughly 2 1/2 times the market share that Party Poker has, and presumably a much higher yield per player, you can only imagine how much money Pokerstars is raking on a daily basis
-average of 1,341 new poker signups per day in the first four weeks of 2008, and an average of 1,428 signups per day in the five weeks after
-$1.7 million in "bad customer debts" in 2007
-$24.7 million paid for "web hosting and technical services" in 2007
-they employ 300 software engineers and associated staff
-they employ "over 200" customer service representatives
-"60% of all customer service emails answered within 120 minutes, and 80% of all phone calls answered within 20 seconds"
Why is Mitch Garber leaving the company after May of 2009? This might have something to do with it:
-Mitch Garber was given a six million dollar signing bonus in 2006
-annual salary of $1.05 million
-787k "annual bonus"
-179k in "allowances / benefits", that I believe include his rental place in Gibraltar, which costs $150k a year
-$7.9 million realized via the exercising of options in 2007, making for a total of $16.4 million in income and benefits in 2007 for Garber
-Party Poker tried to re-negotiate their deal with the World Series of Poker, as they wanted to focus on "Non-US markets only". Obviously they couldn't come to a deal, and Everest Poker stepped in and took over
-after the announcement of the UIGEA, Party Poker had $69.9 million dollars tied up in payment processors that was considered to be "at risk" (payment processors pulling out of the US market, closing up shop, etc). Partygaming wasn't sure how they were going to recover this money, and figured that they wouldn't be able to get any of it back. This was money for already-completed transactions. Partygaming said that they only managed to recover $2.7 million dollars of this original $69.9 million
-An average hand of poker on Party Poker lasted 38 seconds in 2007, down from 39 seconds in 2006
-only 26% of players who sign up for poker accounts are still active after 6 months; this number further drops to 21% after 12 months
-ring games generated 70% of gross poker revenues in 2007
-Is Pot Limit Omaha catching up to Texas Hold'em in terms of popularity? Maybe not. 94% of total poker revenues were derived from people playing Texas Hold'em in 2007, up from 90% in 2006
-a total of 1,200 employees work for Partygaming
-the company is unaware of any upcoming resolution of their discussions with the United States Attorneys Office for the Southern District of New York
-$9.6 million generated in 2007 from "inactive fees and similar items" (presumably deposit fees, withdrawal fees, etc)
-535k active casino players in 2007, 168k active sports bettors
Again, some pretty interesting data contained within this report. The things that really stuck out for me were:
1. How much Mitch Garber is paid
2. How much Pokerstars must be grossing based on some of the data contained in Partygaming's annual report
3. The amount of cash that Partygaming wasn't able to recover from payment processors after the UIGEA was passed
4. The amount of gross poker revenues that are derived from Texas Hold'em (I had thought that Pot Limit Omaha was gaining some ground, I guess not)
Here is the link to the annual report (warning, big PDF file):
Partygaming 2007 Annual Report
--
Filed Under:
Online Poker Rooms