Published on May 11th, 2008 1:00 am EST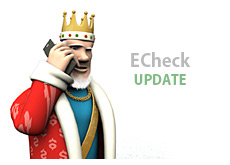 We promised last week that we would keep on top of this story.
From everyone that I have talked to, the Echeck situation for American residents is still unresolved.
In case you don't know what I am talking about, many people have requested Echeck transfers from Full Tilt Poker and Pokerstars, and have still not received any money in their bank accounts.
This is going back all the way to the beginning of April in some cases - some people requested Echeck transfers in the early days of April and have still not yet received their money.
The most frustrating part is that people have been told multiple times to expect their money by a certain date, but the money has still not shown up. As far as I am aware, some people have been given three progressively later dates when they would receive their money, but still nothing has shown up. From what I have been told, people were informed that their eCheck cashouts had been processed on Tuesday, May 6th and should show up in their accounts 3-5 business days later. As far as I am aware, no one has received their money as of yet. Hopefully it will start hitting people's accounts early in the week, but I have some serious doubts about that.
Other people are reportedly being told contradictory information in their correspondence with customer service reps. One person that emailed me wrote that they were told that their Echeck cashouts had been processed on two entirely different dates (meaning, one rep told them one day, and another rep told them another).
It's a shame because Echecks seemed like such a great option after Epassporte pulled the plug on processing poker transactions.
Paper checks from Pokerstars are still arriving quickly though. And apparently, after a slight delay, Full Tilt checks are starting to arrive.
Customer service reps continue to claim "technical problems" are the culprit for the non-existent (so far) Echeck withdrawals. Considering the length of the delay so far, you have to think that the problem is something more sinister, such as the Echeck processors running into some severe UIGEA-related problems. It's hard to imagine that it is anything else at this point.
Once this situation is resolved, Full Tilt and Pokerstars really need to generously compensate the players that have been affected. At the end of the day, they are fully responsible for making sure that people get their payouts on time. If you are going to rake millions of dollars per day, you have to be able to ensure that people get their withdrawals in a timely fashion. And if you can't, then you need to compensate them for it. I'm not talking about bonuses that need to be worked off either. First, focus on getting these people their money back. After that, give them a meaningful, no strings attached bonus for their troubles.
And one more thing - paper checks are your friends. Even if the Echecks magically start going through this week, I'd still withdraw via paper check. You never know when the system will bog down again.
As soon as we start hearing of American residents receiving their long-delayed Echeck transfers, we'll let everyone know. Fingers crossed.
--
Filed Under:
Online Poker Rooms