Published on May 12th, 2008 6:18 am EST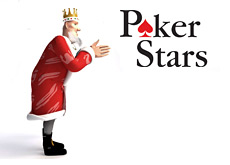 Pokerstars issued a statement today that dealt with the issue of delayed eCheck cashouts. Many Pokerstars and Full Tilt Poker customers have been waiting weeks for their eCheck cashouts to arrive, but nothing has shown up as of yet. Customer service reps from both sites have been claiming that the cashouts would be showing up on any number of different dates, but still no money had appeared.
Pokerstars said that they will be issuing no-strings attached bonuses to those who were affected by the delays. Pokerstars said earlier today that they would be issuing bonuses of 20% of the delayed cashout amount for people that requested eCheck withdrawals from April 15th to May 10th and didn't receive their funds. These bonuses will not have to be "earned" - they will be deposited straight into player accounts, and could be cashed out immediately.
These bonuses will be paid out even if eCheck withdrawals magically start showing up in bank accounts early this week. Pokerstars said that bonuses will be applied to players' accounts by "end of day, Monday, May 12". Again, you will receive these bonuses regardless of whether or not you receive your money on Monday or Tuesday.
Pokerstars further went on to say that they have been told by their eCheck processors that cashouts will start "hitting players' bank accounts on Monday, May 12th or at the very latest on Tuesday, May 13".
They go on to say that if cashouts DON'T start hitting accounts on Tuesday, then they will cancel all delayed eCheck cashouts and credit player accounts for the cashout amounts. Players will then be able to withdraw via other means, such as paper checks.
Pokerstars have been put between a rock and a hard place in the past month. They were likely just telling their customers what their eCheck processors were telling them - the cashouts will be processed soon, etc etc. They were obviously aware of the growing discontent in the community, and acted appropriately.
It will be interesting to see whether or not Full Tilt Poker follows suit. How can they not at this point without looking bad? As we said yesterday, a normal run-of-the-mill bonus isn't enough - players need to be compensated with cash for their troubles.
It's moves like this that tell you why Pokerstars continues to add market share and leave the rest of the competition far behind. This was an expensive move for Pokerstars to take, but they absolutely did the right thing. In the end, they are responsible for customers getting their payouts on time. Now, will Full Tilt do the same?
--
Filed Under:
Online Poker Rooms