Published on June 1st, 2008 5:17 am EST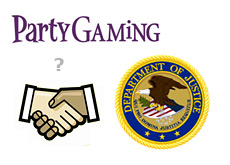 The New York Post reported on Saturday that PartyGaming PLC (parent company of Partypoker.com) may be close to a settlement with the United States DoJ.
Rumors started swirling on Friday that PartyGaming might be close to a settlement with the DoJ. PartyGaming saw its stock trade over 10% higher on Friday as traders started talking up the news.
According to the article which quoted industry sources, the settlement with the DoJ could be as high as one billion dollars. The founders of PartyGaming, Ruth Parasol and Russ DeLeon, would reportedly both be contributing to the settlement. They banked billions of dollars when PartyGaming went public. Earlier reports had the US DoJ demanding that the husband-and-wife founders of PartyGaming serve at least some jail time. People close to the couple said that they would never agree to this, so it is assumed that any settlement would involve no jail-time for any of the company's founders. It is also assumed that people involved with PartyGaming would be allowed to freely travel throughout the United States without fear of being arrested.
This settlement would mean that the DoJ would forgive PartyGaming for facilitating "illegal betting" before they pulled out of the US market in 2006.
You have to think that this settlement could be of major significance for the company in the future. Let's say that online poker is eventually regulated in the United States. Let's say that in order for an online gaming company to operate within the United States, they would need to be licensed by the United States government. Do you think that the US government will grant licenses to companies such as Pokerstars and Full Tilt Poker, who continued to operate and solicit US customers after 2006? Or do you think that they will instead favor companies such as PartyGaming, who reached billion dollar settlements with the US government? Licensed companies would hold many advantages over unlicensed companies, such as being able to accept credit cards, Paypal or Neteller and being able to advertise their *.com brands within the US market (via television, radio or online advertising). Imagine the competitive advantage that PartyGaming would hold if they were allowed to purchase online advertising on Google and their competition wasn't.
This move could pay huge dividends for the company down the road, and I am not surprised that they initiated settlement discussions with the DoJ almost two years ago. It also opens the company up to potential merger deals, as would-be buyers of the company would no longer have to worry about the dark cloud of the DoJ hanging over the company's head.
--
Filed Under:
Online Poker Rooms
|
Poker Legal Issues