Published on June 9th, 2008 3:50 am EST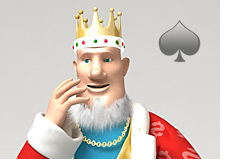 The poker training niche is suddenly starting to get very crowded.
You have Cardrunners.com. PokerXFactor.com. Deucescracked.com. Pokersavvy Plus. Realpokertraining.com. Daniel Negreanu's recently launched PokerVT.com. The list of sites is growing steadily, and it's not hard to see why - this is a blossoming multi-million dollar market. More and more high-profile players are seeing the dollar signs and starting to get involved. First everyone signed a sponsorship deal with an online poker site, and now everyone is aligning themselves with a poker training site.
Anyways, back to the point of the article.
It appears as though a new training site will soon be launching. According to a player involved in the project, Pokernews will be bringing their own instructional video product to the market.
Lex "Raszi" Veldhuis, one of the players involved in the project, said that a number of well-known players will be involved in the site, including:
-Patrik Antonius
-James "mig.com" Mackey
-Chris "Genius28" Lee
-Tony G (not a surprise given the involvement of Pokernews)
-Noah Boeken
-Lex "Raszi" Veldhuis
"Raszi" was interviewed on Pokernews.nl and made mention of the site, as well as the players who would be involved.
Antonius has mentioned a "new project" that he has been working on in recent blog postings. Maybe it's just coincidence, but this might lend credence to the idea that this product is just about to launch.
This is all just speculation and rumor until the product is actually launched. If the names that are involved with the site are correct, then it would certainly be an impressive array of talent. We'll post another article when, and if, this product is launched.
--
Filed Under:
Other Poker News