Published on June 21st, 2008 8:04 am EST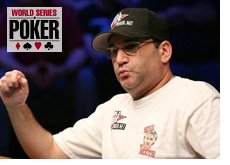 Mike "The Mouth" Matusow got the 2008 World Series of Poker off to a great start when he won a $100k weight-loss prop bet against Ted Forrest, and he has continued building positive momentum since then.
In 2007, Matusow made a large bet with Ted Forrest that he could get down to 181 pounds by June 3rd, 2008. Matusow shed pounds over the course of the year, and by the time June 3rd came around, weighed in at 179 pounds. Matusow's improved health also seemed to bring with it an improved mental state. Matusow now seemed more focused and positive, and this newfound attitude would serve him well when the 2008 World Series of Poker got underway.
Matusow captured his third World Series of Poker bracelet earlier this month when he took down the $5k No Limit 2-7 Draw with Rebuys event for $537k. The "new" Matusow was on display as he navigated through an extremely tough field. The final table was stacked with talent such as David Benyamine, Tony G and Barry Greenstein, but in the end Matusow was able to outlast them all and take down his third bracelet. Matusow faced adversity during the event but managed to avoid the "Matusow Blow-up" that had done him in so many times in the past.
Matusow has now made his second deep run in a 2008 World Series of Poker event, as he is currently second in chips in the $10k Omaha H-Low World Championship. Matusow enters the final day of play with a stack of 390k in chips, which is about 60k less than Ram Vaswani. There are currently 18 players left in the event, with a champion being crowned on Saturday. Matusow will have some stiff competition (Benyamine again, Ram Vaswani, Toto Leonidas), but many people regard Matusow as one of the top Omaha Hi-Lo players in the world, so he has just as good of a chance as anybody else at the final two tables.
A number of people have been in a position to capture multiple bracelets at this year's World Series of Poker, but all have failed so far. Can Matusow become the first to do it?
--
Filed Under:
The World Series of Poker